Flock by Emily Laurens, photograph by Keely Clarke
September 1st 2014 was the centenary of the death in captivity of Martha, the last passenger pigeon. She was 29 years old, and had not reproduced at Cincinatti Zoo with the male companions who died before her.
It was an epic anniversary:  at the beginning of the 19th century, the passenger pigeon was the most numerous bird in existence. Eye witness reports describe flocks hundreds of miles long, numbering billions of individual birds.

An American Holocaust
Spring skies; vast tracts of oak;
Blue-gray wings; red breasts with fawn and white
–sweet billions overhead.
Thundering flocks; infinite numbers,
Black with multitudes – 240 miles long;
One mile wide; sometimes 3 days passing
— into the maw of extinction.
Gone forever, September 1, 1914.

J. Sutter
How might such an extinction be marked? What act of remembrance could possibly be appropriate? Feral Theatre and ONCA invited participants to become part of Martha's Flock in a collective effort to affirm and deepen our memory of the passenger pigeon. The task for each participant was to make a tribute to Martha/ the passenger pigeon in any medium. Whilst the tributes are from seemingly isolated individuals, here they become a virtual flock of tributes.
Michael Pestel plays the Bird Machine for Martha. Video and editing Anna-Lisa Ashman
Tribute to Martha from Crow of Touched Theatre
MARTHA'S FAREWELL from Megan Hollingsworth on Vimeo.
From London-based street artist ATM:, a male passenger pigeon perched on an extinction symbol: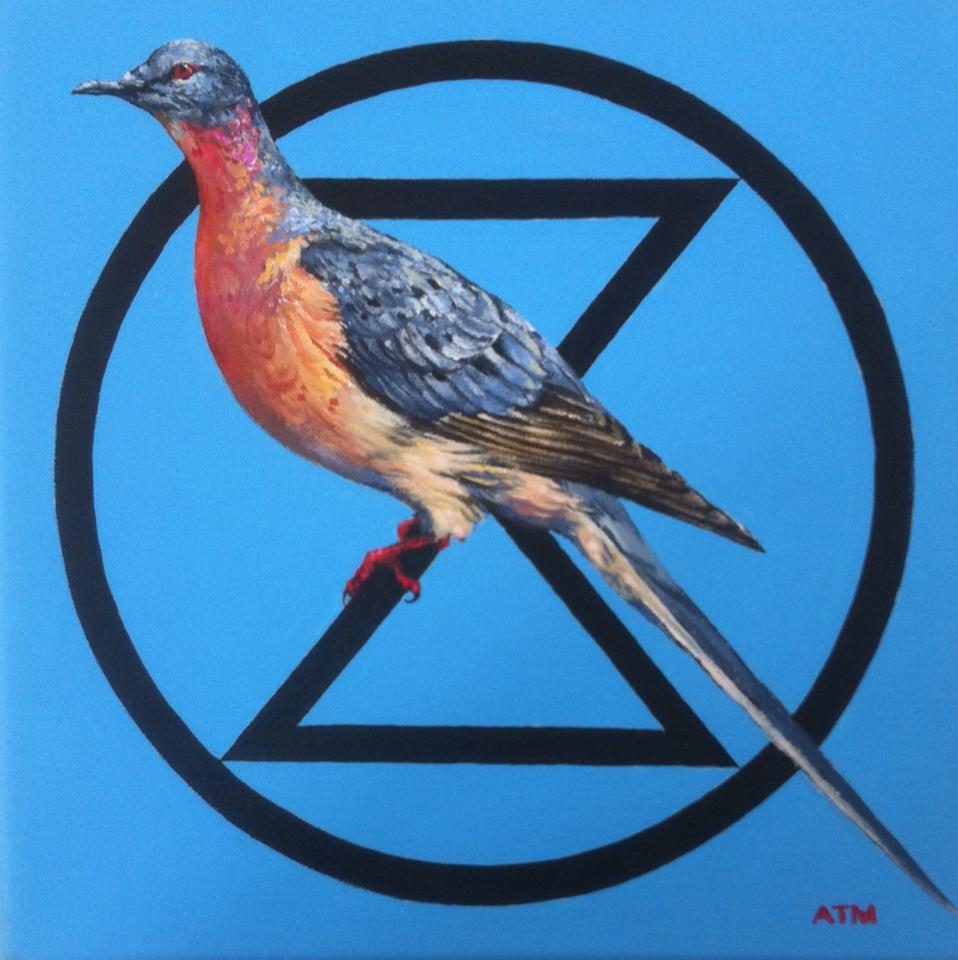 From Scotland-based artist Kittie Jones, a monoprint of two male passenger pigeons, originally created for the Ghosts of Gone birds project:
Toronto-based visual artist Sara Angelucci has added two portraits from her Aviary to Martha's Flock:
"The photographs in Aviary embody many themes of the nineteenth century. Born of the domestic realm, they express a conflation of interests where the family photo album, with its role of commemoration, is brought together with natural science and spiritual emanations. Made by combining photographs of endangered or extinct North American birds with anonymous nineteenth century cartes-de-visite portraits, they portray creatures about to become ghosts.   … And, what would it mean to embody another creature: Could one then see, feel, and understand its desire to live? Might we then imagine the Aviary portraits as chimera suspended in a state of empathy, and wonder what our treatment of other sentient beings might be if we could feel what they feel, or see what they see?"
Quilted contribution from Sherrell Biggerstaff Cuneo, curator of the Sew the Seeds project. This is a participatory project which follows the model of the AIDS Names Project Quilt to raise awareness of the threat of mass extinction and the dangers of loss of diversity, and to give names and stories to each of the increasing number of threatened species on earth today.
Clay pigeons were originally invented in response to the public outcry over the profligate use of passenger pigeons in shooting competitions in the late nineteenth century. Magnificent Clay Pigeons installation photographs from Portland-based ceramicist Kate MacDowell: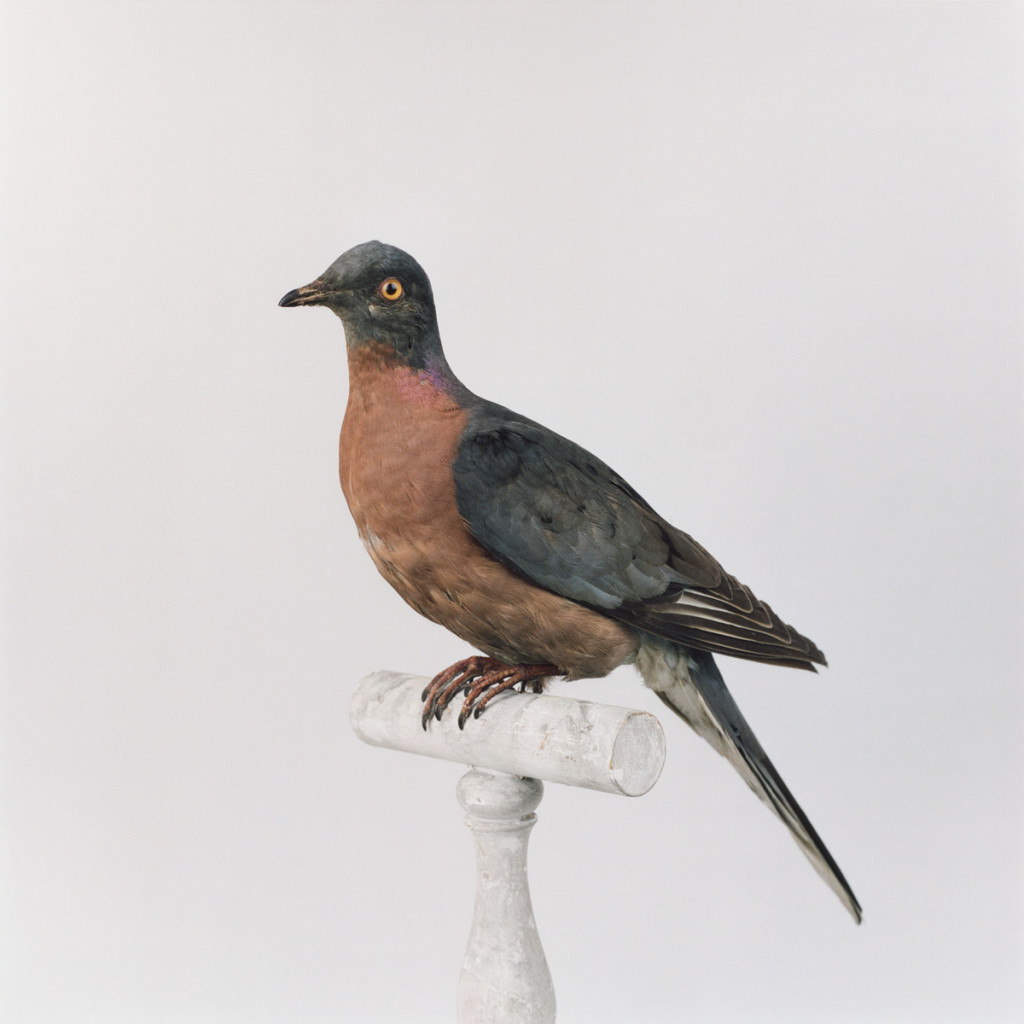 Photograph by Sean Dooley from his book After Life, available at landlocked.eu
Painted cabinet tribute from Zoografika aka Susy Paisley